Our years of experience in industry has led us to design two configurations, making it easy to find a laser which will be a good fit for your application.

The R Series Laser is our mainline unit and features an AC power supply that will plug directly into a standard wall outlet.

For low voltage applications, the LV Series Lasers accept a wide range of input voltages in DC and AC. This is ideal for portable machines, or control voltage installations.

Both configurations work perfectly with our mounting hardware and are covered by an industry leading 24 month warranty. If you have questions about which unit is right for your application, give us a call and we'll help you find the right unit for the job.
R Series Lasers
R Series Lasers use a 100-240VAC power supply built into the plug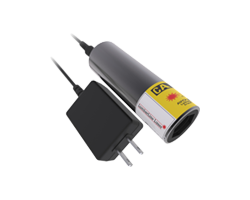 Frequently Asked Questions
LV Series Lasers
LV Series Lasers have a robust internal voltage converter for hardwired applications requiring low voltage AC or DC and control level installations